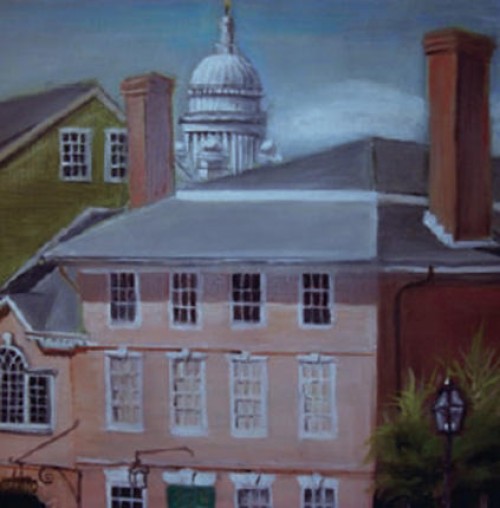 William Milo Barnum
Brought to you by Providence Art Club.
William Milo Barnum
Biography

My entire adult business life has been in the field of architecture. I am a second-generation architect, having been in business with my father from 1954 until his death in 1976. William Milo Barnum Associates came into being in 1968. My painting exposure came when I was an undergraduate at Phillips Academy in Andover, Mass. I painted watercolors of wildlife, namely ducks and trout. Painting had a hiatus in my life until eight years ago when my wife and I moved to Providence from Greenwich, Conn. Prior to that, my main artistic involvement came through the ecclesiastic work performed on behalf of my firm. This included the design of stained glass windows and carving for organ cases as well as memorials. I became an artist member of the Providence Art Club in 1998. My first class was Robert Venditto's life drawing class, which I did for a term. I next joined John Loughlin's landscape oil painting class and I have remained in the class to the present, including the transition to the tutelage of Anthony Tomaselli. Most of my works have been completed in the class and at home, although I have done some paintings on location in Westport Harbor, Mass., and Port Clyde, Maine, where I completed a residential commission and journeyed to Monhegan Island.
Since my last submission, I have started painting larger canvases of architectural subject matter and using larger brushes. I believe that this change has freed up my work and established a more mature technique, which has found more favor with my teacher and peers in class.
This past term I had the privilege of adding a new class with Harley Bartlett, which was most informative and helpful. I believe my most successful work calls on my architectural background, yet I find my landscapes challenging and enjoyable.